NOTE: Customers from United States are not allowed to trade or register at this broker. We would recommend a different broker at our toplist here.
Skilling is an online trading and cryptocurrency CFD broker, offering more than 800 financial instruments across various assets classes. They are focusing heavily on cryptocurrencies now and have over 50 crypto pairs, 100+ shares, and 50+ currency pairs as CFDs. Enjoy a user-friendly and intuitive platform that's regulated. Their excellent software, Skilling Trader, is well worth a try, unless you prefer to use their cTrader or MT 4 solutions instead. Since Skilling's got the lowest spread among crypto CFD brokers, the platform aims to make trading interesting and accessible to everyone.
Looking for a better crypto CFD broker? Sign-up with user friendly Skilling now!
NOTE: Customers from United States are not allowed to register. Find another broker here.
Skilling offer crypto CFD trading with rapid execution & the lowest spread for BTC and ETH among the CFD brokers.

CryptoLists.com
Background & Overview
Skilling is a reliable crypto trading platform with 50+ crypto CFD instruments, available to everyone. Their spread is the lowest available among crypto CFD brokers and can almost be compared to the low spread from one of the more advanced crypto exchanges, while having all the user friendliness that you can ask for. Some of the lowest crypto spreads available at Skilling are only 0.001 points. This popular company provides transparent, accessible, and secure surroundings to encourage traders and beginners to get started with cryptocurrency CFD in a simple and straightforward manner. You can trade and invest, either with 100% leverage for cryptocurrency CFDs or without any leverage.

There are multiple chart display options on the trading platform. Each instrument has an ultra-fast order execution within 0.05 seconds. Skilling is also home to more than 1000 strategies that you can copy automatically with Skilling copy. Skilling's versatility to be accessed through the platform or the app and its 12 languages at the users' disposal make it a one-of-a-kind platform.

The platform features one of the most user-friendly and intuitive designs among crypto brokers. The trading platform offers full web and mobile support. There is also the mobile trading app that gives you added convenience. Get started with a Skilling demo account today! Visit Skilling now!
Advantages at Skilling
+Skilling is a regulated trading broker & crypto platform.
+Intuitive and powerful trading platform that beginners and professionals can use conveniently.
+There are multiple types of accounts and funding options on this trading platform.
+It features over 900 financial instruments and more than 1000 strategies to copy.
+Super low Bitcoin CFD spread.
+Trade any time - no need for a crypto wallet.
+The registration process is effortless, and there are advanced trading tools.
+17 languages available on Skilling. Get localised support, regardless of your country.
+Unique features to help you trade either professionally or as an amateur.
Disadvantages
-There are limited educational resources on the platform.
-Commission on crypto start from 0.1% of the value of the position.
-US traders are not allowed to trade on the platform.
-You cannot deposit with any type of cryptocurrency.
-Skilling only provide CFD trading, so you do not own the underlaying asset.
-The platform is not available in the U.S and a few other countries.
-Skilling don't offer staking or NFTs.
KYC & Registration
It takes about 30 seconds to register and verify your account if you are Scandinavian and are able to use BankID. For other nationalities, it may take a bit longer to go through KYC, since you need a scanned colour copy of either your national ID, passport, or driving license. A bank statement or a recent bill you paid containing your address may also be needed for those individuals without BankID. These documents are checked, and therefore, it may take over 24 hours to get through KYC, however - that is competitive in relation to most other crypto businesses.

You are also asked about your trading experience and other compliance questions. The process is relatively easy, although verifying your documents may take time, depending on your situation. There are two types of memberships on the platform; standard and premium.
Company Account
Register as an individual first & contact Skilling's support after registration. It's simple as that.


Leverage
▪ Rated at 10/10
Skilling applies a tool known as dynamic leverage. You can choose between no leverage, or 2x leverage that equals 100% in most parts of Europe. In some parts of the world, such as the United Kingdom, you are not allowed to use leverage at all for any cryptocurrency CFDs.
Costs
▪ Rated at 10/10
There are no deposit and withdrawal fees on Skilling. Fees on the platform are based on the type of account you select. The platform you use for trading will also influence your trading costs. Skilling clients are entitled to free-of-charge deposits and one free withdrawal per month. A fee of 12.50 EUR is charged on additional withdrawals, and a fee of 2% on the amount is imposed if there was no recent trading activity in the account.

The skilling trading fees and pricing models are based on spread charges. The platform has the lowest spread in the crypto trading market. For example, one bitcoin for only 0.5 USD in fees, compared to competitors that charge up to 340 USD for 1 BTC.

Skilling supports various instant deposits and withdrawal methods with no commission fees. However, this depends on the jurisdiction and the payment method.

It is also worth mentioning that the Skilling minimum deposit is significantly lower than other brokers. The platform charges a minimum deposit of 100 Euros. However, this also depends on the type of account. For instance, the standard account requires an initial deposit of 100 Euros. On the other hand, the premium account requires an opening balance of 500 Euros.

Other fees include CFD fees that are usually higher. There are also interest rate fees after 30 days and an opening position fee. This is standard with most online trading platforms. Trading with Skilling is quite cheap because you won't have to pay inactivity fees and deposit fees, but the withdrawal fees vary from one payment method to another.

The broker also charges a service fee because of facilitating the CFDs trading. Your card issuer may charge you for international transfers if you use credit cards, but usually they don't. The Skilling spread is very low and competitive - from 0.001 pips. You can enjoy the lowest spread for Skilling crypto trading spread with 0.2% taker fees for Bitcoin and 1.6% for Ethereum. Skilling is very economical compared to other brokers who charge up to $340 for 1 BTC. An inactive account that has not been in use for 12 months will be charged $10. Administrative fees are due after 30 days, provided the position remains open.
Deposit Methods
▪ Rated at 10/10
Below you can see a list of the deposit methods available on Skilling. Some of them may not be available in United States as it depends on regional regulation, but normally the most common payment methods are available across numerous countries.
Skilling has got a fantastic amount of fiat deposit methods, such as VISA, Mastercard, SEPA, bank transfers, e-wallets like Klarna, Trustly, Swish, Skrill and Neteller. However, they still got zero funding options for those that only like to deposit with crypto. This makes Skillings rating go down slightly. Read more about the deposit methods at Skilling here.
Platforms
▪ Rated at 10/10
The following platforms are supported by Skilling:
Skilling's cryptocurrencies trading platform is easy to use. Anyone will feel at home here, with their user friendly and intuitive design.

Skilling's platform gives the users a chance to learn how the trading takes place with a demo account. You begin with a virtual balance of $10000 to work with and discover what is in store for you. With extensive information on trading, you can also learn from the CFD crypto broker and develop into an expert trader. Once you feel ready, you can upgrade to a standard account to complete the quick and simple verification process. This allows you to trade on multiple platforms.

Skilling Trader
This is a powerful trading platform that experts designed to satisfy the needs of each trader. Skilling Trader is designed to support mobile use, has an entire web, and is super-fast in executing an order. We are yet to find any other platform with the same speed and usability that you will experience at Skilling Trader.

Ctrader
It is one of the leading trading platforms on Forex and CFD. Being one of the most used platforms, it offers extensive verities of trading instruments. Ctrader offers advanced order types, level II pricing. It's also fast in the execution and entry of any data and has vibrant charting tools. When looking for a trading platform to use, many would like a good interface platform. Using Ctrader's interface is very easy to use and connected to the most sophisticated backed technology. This technology helps the platform to be on use on multiple different devices by traders.

Meta trader 4
For anyone trading on an Android phone, MT4 is the most convenient platform for one to use. It is one of the world's most popular and used platforms, especially on Forex. It gives a trader a wide range of choices, from hundreds of brokers and thousands of servers to trade. When using MT4, you can enjoy and watch the market volatility using technical indicators and advanced graphical objects.

Skilling copytrader
It is an award-winning trading platform that helps you to trade via cCopy. The systems are fitted with a web-based system that is integrated with Skilling cTrader platform. In our opinion, they need a few more trading strategies and active traders before it becomes a hit, but you can try it already now and discover all the advantages and disadvantages with Skilling CopyTrader yourself.

Android
Skilling's Android platform is amazingly fast and user friendly on mobile phones and Android devices from Samsung, Google Pixel, Nokia, OnePlus, Motorola and Microsoft Surface Duo to name a few. All Android platforms use the Modified Linux Kernel. The applications used in these devices are written in Java Programming language. The Android operation system was introduced in 2007 by Open Handset Alliance.

iOS
All iPhones users can enjoy Skilling with an in-house built app, that you can download after signing up here. Skilling's iPhone app is incredibly fast and user friendly, with transparency in focus so you understand everything really quick. iOS is a mobile operating system that was created and developed by Apple Inc.
Automated Trading and Copy Trading
Skilling provide automated trading, allowing users to easily copy over 1000 different trading strategies. Skilling CopyTrade is a feature that anyone can use, from beginners to more advanced users. Analyse the risk levels, choose a strategy and copy trade automatically. Get the same potential return as some of the most trusted and successful investors in the world.
›› Get started with
Crypto Auto Trading at Skilling now
.
Languages supported
The following languages are supported on Skilling:
Chinese, English, Dutch, Filipino, French, German, Indonesian, Italian, Japanese, Norwegian, Portuguese, Spanish, Swedish and Thai and Vietnamese
Broker Support
▪ Rated at 9/10
The platform's support system offers customer service in various languages. The customer service is available 24/5. You can talk to the customer support team via phone call (international calls are allowed), live chat, and email. The support team responds quickly, making it one of the highest ranking trading platforms for its support quality. The support team also ensures that all their responses are easy to understand. They will guide you through any issue to ensure it is fully resolved.
Other Names for Skilling
Skilling is or has also been known under the following names: Skilling Group, Finovel Cyprus Ltd
FAQ
Where can I register for Skilling?

The best way is to open an account here and if you have any further questions you can get in touch with their support directly.

Is Skilling a reliable cryptocurrency site?

Yes, it is a very reliable site with three licenses from top regulators in the trading market; CySEC, FSA, and FCA. This means that the company complies with standards set by various regulatory bodies. The platform has also operated since 2016 and the business got both a FCA license for the UK and is also EU regulated from Cyprus.

Having those two licenses means that Skilling follow hard rules set up by CySec and FCA. One example is that This means that customer's money must be held in a separate accounts from the business capital. Skilling is definitely not a scam, rather a highly serious crypto CFD broker that is starting to become really competitive when it comes to spread and instruments.

How does this company earn money?

This is a commonly asked question because there are zero trading fees in all markets and products on the platform. The platform makes money through commission. It does not charge any trading fees. However, in the event of a positive trading outcome, the company takes a commission of around 35% from traders' profits.

Who started this company?

The company was started in 2016 under the company; Skilling Ltd. The version we have today was founded by a team from Scandinavia. The investors Andre Lavold and Henrik Person Ekdahl were among the first investors, and the a previous CEO of Google Sweden was the heading the company during the first two years.

Where is the company located?

The company has headquarters in Cyprus. (62 Athalassas Avenue, Strovolos, CY-2012 Nicosia, Cyprus)

How to withdraw money from the platform?

You can withdraw money from the platform by following the steps below;

Log into your account
Click on the withdrawal button
Select your account
Select the amount
Click comfort
Confirm the withdrawal's approval via your email

How do Skilling handle leverage?

Leverage is GEO IP based and depends on which country you register and trade from.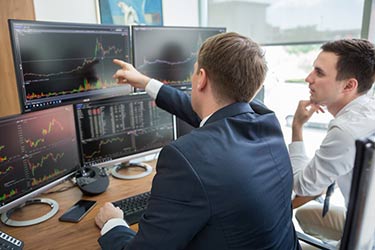 Which cryptocurrencies can be traded at Skilling?

You can trade Link, Aave, AC Milan token, Polkadot, Cardano, Binance Coin, Juventus token, Chillz token, PSG token, FC Barcelona token, Theta, Decentraland, Axie Infinity, Crypto.com, PancakeSwap, Sandbox, Bitcoin.mini, Tron, Uniswap, AC Roma token, Atletico Madrid token, Kucoin, Cosmos, Avalanche, Polygon, Synthetix, Enjin, Fanton, Bitcoin Cash SV, Waves, Huobi, Harmony, VeChain, Dash, Litecoin, EOS, Ethereum, Terra, Solana, NEO, Bitcoin cash, IOTA and Shiba Inu as CFDs.

Does the word Skilling stand for anything specific?

Yes, Skilling can mean a type of money that was used in Sweden. 1776, the Swedish Riksbank decided that riksdaler should be divided into 48 Skillings. In English, that would be "Shillings". This currency unit lasted until 1855. Skilling is also a European brandname (individual), in the niche classed 42, 41, 36, 35 and 9.

Where are Skilling's offices located?

Skilling Group have 3 offices around the world
Skilling Marbella - Av. Ricardo Soriano, 19, 29601 Marbella, Spain.
Skilling Cyprus Skilling Ltd - Athalassas Ave 62, 2023 Nicosia, Cyprus.
Skilling (Seychelles) Ltd - Suite 3, Global Village, Jivan's Complex, Mont Fleuri, Mahe, Seychelles.

Is Skilling 500 a competition started by Skilling.com?

No, the Scandinavian trading site Skilling has nothing to do with the rally competition Skilling 500. The name Skilling 500 comes from a rally club called Skillingaryds Motorklubb, so the competition is an abbreviation of this. Skillingaryd is also the name of the village where the competition takes place. On June 8 (2022), Victor Karlsson took home the victory, which will be the fourth straight win for him. When it comes to sponsorship, Skilling has signed a contract with chess player Magnus Carlsen. They used to be a sponsor of the football team Aston Villa and before that, Fulham FC but currently don't sponsor any team in the English premier league.

Which languages are available on Skilling?

Apart from English, Skilling also have their website available in German, Filipino, French, Italian, Mandarin, Malaysian, Norwegian, Portuguese, Romanian, Simplified Chinese, Spanish, Swedish, Traditional Chinese and Vietnamese.
History of Skilling
Crypto Lists have been able to follow the development of Skilling a bit better than most, since part of the team had the pleasure to meet Optimizer Invest on a few occasions over the years. Below is the timeline from how Markus at Crypto Lists has seen the development of Skilling over the years.

February, 2016 - Anders Berglund quit his job as CEO of Google in Sweden. He immediately began as CEO for what would later become Skilling, a startup that is mainly funded by Optimizer Invest.

8th of September, 2017 - Finovel Cyprus Ltd is registered in Cyprus. This company will later be renamed Skilling Ltd. Norwegian Mikael Rise Harstad is director of the company.

3rd of May, 2019 - "Through high user-friendliness, Skilling's platform makes trading more easily understandable and accessible to everyone who wants to trade currencies, cryptocurrencies, indices, stocks and commodities", says Anders Berglund to Valutahandel.se, Scandinavian's leading site about currency trading.

4th of May, 2019 - Skilling launch their proprietary trading platform called "Skilling Trader". However, users can also opt for MT4 at this stage. Mostly forex CFD pairs and stocks CFDs are available to trade. 5 languages are available: Swedish, German, Norwegian, Spanish and English.

5th of May, 2019 - Already in the beginning, Scandinavia's major KYC platform called BankID, is supported by Skilling. Over 90% of all inhabitants in Sweden and Norway use BankID.

28th of May, 2019 - Norwegian Andre Lavold, co-founder and sometimes called the strategist behind Optimizer Invest, goes in as the new CEO for Skilling. He aims to take the company to the next level and works tirelessly to 03 am in the morning many days.

9th of July, 2019 - Skilling launch a brand new website, with a updated look and feel. The new slogan is "Trading. Simple".

6th of August, 2019 - Skilling is the new main sponsor of Fulham F.C with their brand name exposed on the back of all official match shirts.

30th of January, 2020 - Internally, the latest integration is called One account. Two platforms. When having an account with Skilling, you can now also have a fully connected account with cTrader. In contradition to most other trading platforms, only one wallet is needed.

19th of May, 2020 - Skilling (Seychelles) Ltd receives a regulatory license from Seychelles. European customers are still regulated from the CySEC license.

2nd of July, 2020 - After countless hours of development, Skilling goes live with MetaTrader 4 (MT4), asa an alternative to Skilling Trader.

September, 2020 - Skilling becomes the club partner with premier league team Aston Villa F.C. The updated slogan used on Skilling's website is: Trading. Made. Simple.

15th of September, 2020 - Skilling's marketing department obviously like testing. Their latest slogan on the official website in September 2020 goes as follows: Join. Trade. Grow.

30th of September, 2020 - Skilling add football tokens to their range of crypto CFDs.

26th October 2020 - Michael Kamerman is taking over as the new CEO for Skilling after Andre. Before Skilling, he was at FXCM for more than 15 years.

November, 2020 - The world champion of chess, Norwegian Magnus Carlsen (born 1990), is sponsored by Skilling. They rename the 9 month long Champions Chess Tour to "Skilling Open" during the sponsorship period of one year.

31st of May, 2021 - Tired of making all the trading decisions yourself? Now, it is possible to do copy trading at Skilling. A copy trading account has to be created with cTrader within the platform, after you signed up.

10th of January, 2022 - Skilling lower the spread for crypto CFD trading with up to 90%. For trading with Bitcoin CFD, the spread is now only 0.5 USD between buying and selling.

13th of January, 2022 - The company is now offering crypto CFD trading without leverage. Most other crypto brokers only offer their CFD products with leverage.

26th of January, 2022 - Skilling simplify and automate the tax declaration for clients. With the press of a button, all data from Skilling can be downloaded and sent to the local authorities.
Instruments available
▪ Rated at 10/10
Crypto CFDs
AAVE
/USD, AAVE/EUR, ACM/USD,
ADA
/USD, ADA/EUR,
APE
/USD, ASR/USD, ATM/USD,
ATOM
/USD,
AVAX
/USD, AVE/USD,
AXS
/USD, BAR/USD,
BNB
/USD,
BSV
/USD,
BTC
/EUR, BTC/USD, BTCmini/USD,
CAKE
/USD, CAKE/EUR,
CHZ
/USD, CHZ/EUR,
CRO
/USD,
DASH
/USD,
DOGE
/USD,
DOT
/USD,
ENJ
/USD, EOS/USD,
ETH
/USD, ETH/EUR,
FTM
/USD,
HT
/USD, IOTA/USD, JUVE/USD,
KCS
/USD, Kucoin,
LINK
/USD,
LTC
/USD,
LUNA
/USD,
MANA
/USD,
MATIC
/USD, MIOTA/USD, NEO/USD, OMG/USD, ONE/USD, PSG/USD, QTUM/USD,
SAND
/USD,
SHIB
/USD, SNX/USD,
SOL
/USD, THT/USD,
TRX
/USD,
UNI
/USD, VET/USD,
WAVES
/USD, XBN/USD, XET/USD, XLC/USD,
XMR
/USD,
XRP
/USD, XRP/EUR, YFI/USD, Zcash/USD
Currency CFDs
EUR/USD, GBP/USD, EUR/JPY, USD/JPY, USD/CHF, GBP/JPY, USD/CAD, EUR/GBP, EUR/CHF, CHF/JPY, EUR/CAD, GBP/CAD, CAD/CHF, GBP/CHF, CAD/JPY, AUD/USD, AUD/JPY, NZD/USD, EUR/AUD, GBP/AUD, AUD/CAD, AUD/NZD, NZD/JPY, USD/NOK, AUD/CHF, GBP/NZD, EUR/NZD, USD/SEK, NZD/CAD, EUR/SEK, GBP/SGD, EUR/NOK, USD/DKK, GBP/NOK, NZD/CHF, EUR/DKK, GBP/SEK, CAD/NOK, CHF/NOK, GBP/DKK, NOK/JPY, NOK/SEK, AUD/NOK, NOK/DKK, USD/MXN, USD/SGD, EUR/HUF, USD/PLN, USD/TRY, EUR/TRY, EUR/HKD, EUR/ZAR, SGD/JPY, USD/HKD, USD/ZAR, EUR/MXN, EUR/PLN, GBP/ZAR, USD/HUF, EUR/CZK, USD/CZK, EUR/RUB, USD/RUB, USD/CNH, AUD/SGD, CHF/PLN, EUR/SGD, USD/ILS, TRY/JPY, USD/RON, USD/THB, ZAR/JPY, AUD/PLN
Commodity CFDs
Silver, Gold, SUGAR, Coffee, Cotton, Wheat, Cocoa, Soybean, WTI, BRENT, NaturalGas, PLATINUM, Palladium
Indices as CFD
VIX, FTSE100, OMX30, Nikkei, SPX, Nasdaq100, DowJones30, HK50
British Stocks as CFDs
Barclays, BHP Billiton, BP Plc, BA Tobacco, GlaxoSmithKline-ADR, HSBC Holdings ADR, Johnson and Johnson, Lloyds Bank ADR, Rio Tinto, Royal Dutch Shell, Unilever PLC
Norwegain Stock CFDs
BW LPG, DNB, DNO, Equinor, Frontline, Kvaerner, Mowi, Norsk Hydro, Norwegian Air, Orkla, PGS, REC Silicon, Schibsted, Storebrand, Subsea 7 SA, Telenor, Yara International
French Stocks as CFDs
Accor, Air France-KLM, Air Liquide, Airbus Group SE, Alstom, Altran Techn, Arkema, Atos SE, AXA, BioMerieux, BNP Paribas, Bouygues, Bureau Veritas, Carrefour, Casino Guichard, Christian Dior, CNP Assurances SA, Credit Agricole, Danone, Dassault Systemes, Edenred SA, Eiffage SA, Elior Group, Engie, Eramet, Esso A, Eurofins, Euronext NV, Eutelsat Comm, Faurecia, Gecina SA, Genfit, Hermes, Icade SA, Iliad SA, Ingenico Group, Ipsen SA, Ipsos SA, JC Decaux, Kering, Klepierre, Korian, Lagardere, Legrand SA, L'Oreal, LVMH, Maisons France, Mercialys, Michelin, Neopost SA, Nexans SA, Orange S.A, Orpea, Pernod Ricard, Pierre & Vacanc, Plastic Omnium, Publicis Groupe, Remy Cointreau, Renault, Rexel SA, Safran SA, Saint-Gobain, Sanofi Aventis, Schneider Electric, Scor SE, Societe Generale, Sodexo, Soitec, Sopra Steria G, ST Microelectronics, Suez, Synergie SA, Teleperformance SA, Tessi SA, Tf1, Thales, Total Gabon, Ubisoft, Valeo, Veolia, Vicat SA, Vinci, Vivendi, Wendel SA
German Stocks as CFDs
Aareal Bank AG, Adidas AG, Adva Optical, AIXTRON, Allianz, Alstria Office REIT, Aurubis AG, Axel Springer AG, BASF SE, Bayer AG, Baywa, BB Biotech AG-Reg, Bechtle AG, Beiersdorf, Bilfinger SE, Biofrontera AG, Biotest AG, BMW AG, Brenntag AG, Cancom SE, Ceconomy AG, Commerzbank AG, Continental AG, Covestro AG, Daimler AG, Delivery Hero AG, Deutsche Boerse AG, Deutsche Post AG, Deutsche Telekom AG, Deutsche Wohnen AG, Deutz AG, Dialog Semiconductor, DIC Asset AG, DMG Mori AG, Drillisch AG, Duerr AG, Elringklinger AG, E.ON SE, Evonik Industries, EVOTEC, Fielmann AG, Fraport AG, Freenet AG, Fresenius Medical, Fresenius SE, Fuchs Petrolub AG, Gea Group, Gerresheimer AG, Hamburger Hafen, Hannover Rueck, Hapag Lloyd AG, HeidelbergCement AG, Heidelberger Druck, Hella Kgaa Hue, Henkel AG, Hochtief AG, Hugo Boss AG, Infineon Tech, Innogy SE, Isra Vision AG, Jenoptik AG, K&S AG, Kion Group AG, Kloeckner & Co, Krones AG, Kuka AG, Lanxess AG, Leoni AG, Linde, LPKF Laser, Lufthansa, MAN SE, Merck & Co, Metro Wholesale, Morphosys AG, Mtu Aero Engines AG, Muenchener Rueck, Nordex SE, Norma Group, Osram Licht AG, Paragon AG, Patrizia Immobilien, Pfeiffer Vacuum Tech, Porsche Automobil, Prosieben Sat1, Psi AG, Puma SE, Qiagen NV, Qsc AG, Rheinmetall VZ, RWE AG, Saf Holland, Salzgitter AG, SAP, Sartorius AG, SchaefflerAG, Scout24 AG, SGL Carbon SE, Siemens, Siltronic AG, SMA Solar Tech, Software AG, Stratec Biomedical, Suedzucker AG, Suess Microtec AG, Symrise AG, TAG Immobilien AG, Talanx AG, Telefonica Deutsch, ThyssenKrupp AG, Tui AG, Uniper AG, United Internet AG, Vonovia SE, Wacker Chemie, Wirecard, Volkswagen Group, Zalando
Irish Stock CFD
Paddy Power Betfair
Italian Stocks as CFDs
Amplifon SpA, Atlantia, Autogrill, Azimut Holding Spa, Brunello Cucinelli, Buzzi Unicem, Cattolica Ass, Cerved Information, Danieli & Co, Davide Campari, Diasorin, ENEL, ENI, ERG SpA, Ferrari NV, Fiat Chrysler Auto, FinecoBank Banca, Freni Brembo, I.M.A., INWIT, Italgas SPA, Juventus FC, Leonardo SpA, Mediaset, Mediobanca, Moncler Spa, Piaggio & C. SpA, Prysmian, Recordati, SAIPEM, Salvat Ferragamo, Snam SpA, Tenaris, Terna, Tods, Ubi Banca, UniCredit SpA
Spanish Stocks as CFDs
Acciona, Acerinox, ACS Construction, Aena SA, Amadeus IT Holding, Applus Services, Atresmedia Corp, Banco Bilbao, Bankinter SA, Bolsas y Mercados, CaixaBank, Ebro Foods SA, Enagas, FCC SA, Ferrovial SA, Grifols SA, Iberdrola, Inditex, Indra Sistemas SA, Mediaset Espana, Melia Hotels, NH Hotel Group, Red Electrica, Repsol SA, Siemens Gamesa, Tecnicas, Reunidas, Telefonica, Viscofan SA, Zardoya Otis
Swedish Stocks as CFDs
Alfa Laval, Assa Abloy B, Astrazeneca Plc, Atlas Copco A, Atlas Copco B, Axfood AB, Electrolux B, Elekta, Epiroc AB, Ericsson B, Fingerprint Cards, Getinge, H&M, Hexagon AB, Instrum Justitia AB, Investor B, Kinnevik AB, Loomis AB, Lundin Petroleum AB, NCC AB, Nordea Bank, RATOS AB, Sandvik AB, SEB, Securitas B, Skanska AB, SKF, Svenska Cellulosa, Svenska Handelsbanken, Swedbank, Swedish Match, Swedish Orphan, Tele2 B, Telia Company, Volvo B
U.S Stocks & ETF's & Funds as CFDs
3M, 51 Job, 58.com Inc, Abbott Labs, AbbVie, Abercrombie, Accenture, Activision Blizzard, Adobe Systems, ADP, Advanced Micro, Affiliated Managers, Ak Steel Holding, Akamai Technologies, Akorn, Alaska Air, Alcoa, Alibaba, Allegheny Tech, Allergan plc, Allstate Corp, Ally Financial Inc, Altria Group, Amazon.com, America Movil, American Airlines, American Express, Americold RT, Amgen, Anheuser-Busch, Anthem Inc, Apache Corp, Apestry Inc, Apple, Argo Group, Applied Materials, AT&T, Autodesk Inc, Autohome Inc, Avis Budget Group, Baidu Inc, Banco Santander ADR, Bank of America, Barrick Gold Corp, Bausch Health, Becton Dickinson, Bed Bath and Beyond, Berkshire Hathaway, Best Buy Co, Beyond Meat, Big Lots, Biogen Inc, Bitauto Holdings, Black&Decker, Blackberry, Blackrock Inc, Blmberg Oil, Boeing, Booking Holdings, Caesars, Campbell Soup Co, Cardinal Health Inc, Caterpillar, CBS Corp, CDW Corp, Cellectis, Centene Corp, CenturyLink Inc, Cerner Corp, Charter Comm, Check Point, Chemours, Cheniere Energy, Chesapeake Energy, Chevron, China Biolgc Pdt, China Mobile (USD), Chipotle Mexican, Chubb Ltd, Churchill Downs Inc, Cigna Corp, Cisco Systems, Citigroup, CME Group, Coca-Cola, Cognizant, Colgate Palmolive, Comcast, Commercial Metals, CommScope, Community Health, ConocoPhillips, Constellation Brands, Continental, Core-Mark Holding, Corning, Costco Wholesale, Coty Inc A, CSX Corp, Ctrip.com, CVR Energy Inc, CVS Health Corp, DDEnergy Bull, Dean Foods, Deere & Co, Delta Airlines, Dentsply Sirona Inc, Deutsche-Bank, Devon Energy, Dicks Sporting, Dillard Cl, Discovery, Dish Network Corp, Dollar Tree Inc, Domino's Pizza Inc, Dropbox Inc, eBay, Editas Medicine Inc, Electronic Arts, Eli Lilly, Energizer, Energy Select SPDR, Essent Group, Estee Lauder, Etsy Inc, Expedia, ExxonMobil, Facebook, Fastenal, Fedex Corp, Ferrari NV, FireEye Inc, First Solar Inc, Fitbit, Foot Locker, Fluor Corp, FMC Corp, Ford Motor Co, Frontier, GAP Inc, Garmin, General Electric, Genworth Financial, Gilead Sciences, Globalstar, GNC Holdings Inc, GoDaddy Inc, Goldman Sachs, Google, Goodyear, GoPro Inc, Grainger WW, GW Pharmaceuticals, Halliburton Co, Harley-Davidson, Hasbro, Health Care Select, Henry Schein, Herbalife Ltd, Hertz, Hewlett Packard, Hilton, Home Depot, Honeywell, HubSpot Inc, Huntsman Corp, IBM, Illumina Inc, Incyte Corp, Intel, Intellia, Interactve Brokers, Intercept Pharma, Insys, Intuit, Ionis Pharmaceuticals, IPG Photonics, iShares DJ Energy, iShares Global Energy, iShares MSCI China, iShares MSCI Emerg, iShares MSCI Germany, iShares MSCI HK, iShares MSCI Italy, iShares MSCI Japan, iShares MSCI Spain, iShares MSCI Sweden Index, iShares Oil E&S, iShares Silver Trust, iShares, Jabil Circuit, JC Penney Co Inc, JD.com, Jetblue Airways, JPMorgan Chase, Juniper Networks, Kellog Co, Kinder Morgan Inc, KKR Co, Kohls Corp, Kraft Heinz Co, Kroger Co, Kronos Worldwide, L Brands Inc, Lam Research Corp, Las Vegas Sands, Lennar Corp, Liberty Global, Lithia Motors, Live Nation, LKQ Corp, Lockheed Martin, Lowes Companies, Lyft Inc, Macys, Manchester United, Marathon Petroleum, Marriott Intl, Mastech, Mastercard, Match Group Inc, Mattel, McDonald's, Medtronic, MercadoLibre Inc, MGM Resorts, Micron Technology, Microsoft, Mohawk Industries, MOMO Inc ADR, Monster Beverage, Motorola, Mueller Water, MVOil Service, Nasdaq Bio, National Instruments, Navistar, NCR Corp, NetApp Inc, NetEase, Netflix, New York Mellon, Newell Rubbermaid, Newmont Mining, NextEra Energy Inc, Nielsen, Nike, Noble Energy, Nordstrom, Northrop Grumman, NOW Inc, Nuance, NVIDIA, NVR Inc, NXP Semiconductors, Office Depot, Oracle, Oshkosh Corporation, Owens Corning, Packaging of America, Palo Alto Networks, Patterson, PayPal Holdings, PepsiCo, Petroleo Brasileiro, Pfizer, PG and E Corp, Philip Morris, Pinterest, Pioneer, Polo Ralph Lauren, Procter & Gamble, Puma Biotechnology, PVH Corp, QIWI plc, Qualcomm Inc, Quanta Services, Raytheon Co, Regeneron Pharm Inc, Rite Aid Corp, Ross Stores, RR Donnelley, Ryanair Holdings, S&P Oil & Gas Exp, Salesforce, Sally Beauty, Sanmina Corp, SBA Comm, Schlumberger, Seadrill (USD), Shake Shack Inc, Shopify Inc, Signet, Six Flags, Skyworks Solutions, Slack Technologies, Snapchat Inc, SolarEdge Tech, Sony, Southwestern Energy, SPDR Gold Trust, SPDR Oil E&S, SPDR S&P 500 ETF, Spirit Airlines, Spotify, Sprint Corporation, Square Inc, Starbucks, Steel Dynamics, Superior Energy, Symantec Corp, Synaptics, SYNNEX Corp, Sysco Corp, Taiwan Semiconductor, Take Two Interactive, Target Corp, Tata Motors Ltd, Tech Data Corp, Technology Select, Telecom Argentina, Tenet Healthcr, Tesla Motors Inc, Teucrium Wheat ETF, Texas Instruments, Thermo Fisher, Tiffany and Co, Tilray Inc, TiVo Inc, TJX Companies, Toll Brothers, TripAdvisor Inc, Twitter, Uber Inc, Ubiquiti, Ultrashort Oil&Gas, Under Armour, Union Pacific, United States Steel, United Technologies, UnitedHealth Group, Uniti Group Inc, Urban Outfitter, US Brent Oil Fund, US Oil Fund, Vale SA, VanEck Gold Miners, VanEck Junior Gold, VanEck Russia ETF, VanEck Vietnam ETF, VeriSign, Verizon, VF Corp, Viacom, Viavi Solutions Inc, Vipshop, Visa, VMware, Vodafone, Walgreens Boots, Wal-Mart, Walt Disney, Waste Management, Wayfair, Weatherford, Welbilt Inc, Wells Fargo, Western Digital, Whirlpool, Williams Companies, Williams Sonoma Inc, Wisdom Tree India, Wisdom Tree Japan, World Fuel, Wynn Resorts, Xerox Corp, Yandex NV, Yelp Inc, Yum Brands, Zendesk, Zynga
›› Sign up at Skilling here
NOTE: Customers from United States are not allowed to register. Find another broker here.
Screenshots from Skilling
Read the Skilling Terms and Conditions here.
Skilling Review Published: Thursday, 2 Sep 2021 6:03 pm
Last Updated: Wednesday, 22 Feb 2023 4:42 pm